Sapori Chocolate Cantuccini are inspired by the traditional Tuscan recipe but offer a new take on an old favourite that is even more delicious than the original. Tasty pieces of dark chocolate are combined with fresh milk, fresh free-range eggs, and honey to create a delicious contrast between the crunchiness of the biscuit and the creaminess of the chocolate.
The double baking process
The diagonal cut is one of the characteristic features of cantuccini and it is performed on the batons of dough as soon as they are removed from the oven. What makes our Cantuccini unique is the double baking process: indeed, once cut, they are then placed back in the oven to make them even crunchier.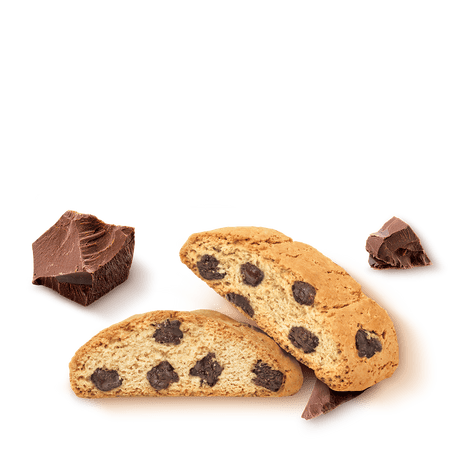 Tasting tip
Sapori Chocolate Cantuccini are exquisite on their own or accompanied by a good natural red dessert wine with intense fruity and spicy notes. Sapori recommends pairing them with Aleatico Passito dell'Elba DOCG by Acquabona.
Ingredients
Coookies with chocolate
INGREDIENTS:wheatflour – sugar 27% – chocolate drops and chunks 22.5% (sugar, cocoa paste, cocoa butter, emulsife:soy lecithin, natural flavourings) – fresh barn egg yolk 4.5% – fresh barn eggs4.5% – fresh pasteurized whole milk 4.5% – butter-raising agents: disodium diphosphate, sodium bicarbonate – honey 0.4% – salt – flavourings.  May contain nuts  and sesame seeds.
Disponibile nei formati:
Sacchetto 175g
Sacchetto 250g
Nutrition Facts
Values
Per 100g
ENERGY
1884 kJ
448 kcal
FAT
di cui acidi grassi saturi
14 g
6,0 g
CARBOHYDRATE
of which sugars
72 g
41 g
FIBRE
2,6 g
PROTEIN
7,1 g
SALT
0,75 g