Delizie Toscane Figs & Walnuts 126g
for those with a sweet tooth
Sapori Delizie with Figs and Walnuts are the expression of the irresistible union between the strong taste of walnuts and the sweetness of dried figs, creating a little chunk of excellence sure to satisfy the sweetest palates.
Your moment of pleasure
At any time of the day, treat yourself to an exquisite, delicious break ensuring a truly authentic taste. These delicious treats can be enjoyed on any occasion, gifting you a moment of pure, unadulterated pleasure.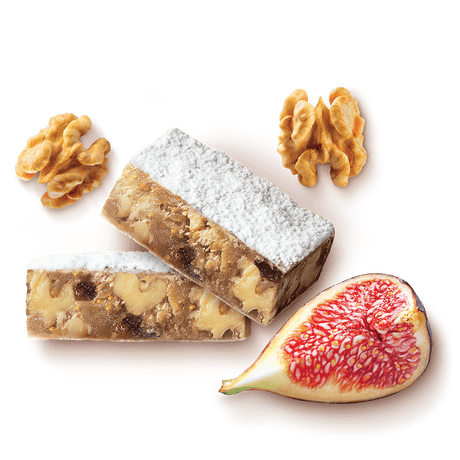 Tasting tip
Sapori Delizie Toscane with Figs and Walnuts are exquisite on their own or paired with a Dessert Wine by Petit Manseng. Its ripe fruit and honey, but also spicy and mineral notes offer a floral freshness, the perfect match for the figs and walnuts.
Sapori recommends pairing them with Oro di Caiarossa I.G.T. by Azienda Biodinamica Caiarossa.
Ingredients
CONFECTIONARY PRODUCT WITH FIGS AND WALNUTS
INGREDIENTS: sugar – wheat flour – dried figs 16% – walnuts 16% – raisins 10% – glucose – fructose syrup – icing sugar 9% (sugar, maize starch) – hazelnuts 2% – rice flour – starch wafer 0.5% (potato starch, water). May contain soy and other nuts.
Disponibile nei formati:
126g bag with 7 single portions
Nutrition Facts
Values
Per 100g
ENERGY
1773 kJ
421 kcal
FAT
di cui acidi grassi saturi
13 g
0,9 g
CARBOHYDRATE
of which sugars
70 g
57 g
FIBRE
3,0 g
PROTEIN
4,6 g
SALT
0,01 g