Whenever you need a break, treat yourself to a refined, delicious snack bursting with all the taste of freshly-baked almond paste. Thanks to the individual packs, you can savour a Ricciarello any time you want, indulging in a moment of pure pleasure.
Your moment of pleasure
Sapori Almond Ricciarelli take their name from Ricciardetto della Gherardesca who, on his return from the crusades, brought back to Tuscany these little almond paste treats that were immediately a roaring success. As they still are today.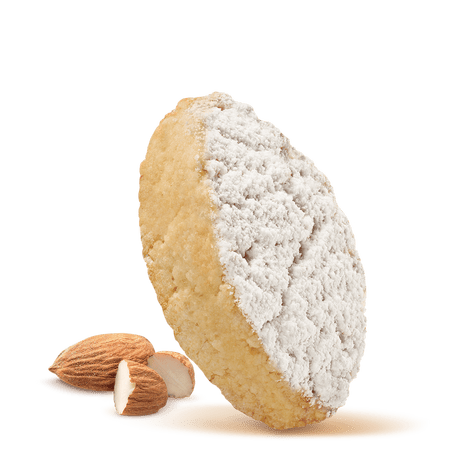 Tasting tip
Sapori Almond Ricciarelli are exquisite on their own or paired with a Vin Santo from San Gimignano made from the legendary Malvasia, Trebbiano, and San Colombano grapes, characterised by notes of raisin, hazelnut, and roasted almond. Warm and harmonious, it features a long fruity, citrusy finish that complements the almond paste to perfection.
Sapori recommends pairing them with Vin Santo San Gimignano DOC by Tenute Guicciardini Strozzi, winery from Cusona.
Ingredients
ALMOND PASTRIES
INGREDIENTS: sugar – almond 40% – icing sugar 7% (sugar, maize starch) – chicory soluble fibre – egg – white flavourings – preservative: sorbic acid – raising agent: ammonium bicarbonate – salt. May contain wheat, milk, soy and other nuts.
Disponibile nei formati:
120g bag 6 single portions
140g Box
200g Box
Nutrition Facts
Values
Per 100g
ENERGY
1892 kJ
452 kcal
FAT
di cui acidi grassi saturi
22 g
1,8 g
CARBOHYDRATE
of which sugars
51 g
51 g
FIBRE
6,6 g
PROTEIN
9,3 g
SALT
0,09 g