Pralines of dark chocolate with 70% cocoa in a characteristic Christmas shape, featuring a unique soft cocoa centre flavoured with orange and cinnamon. The bitter note of the orange is perfectly balanced by the sweetness of the cinnamon, in an intense, enveloping combination.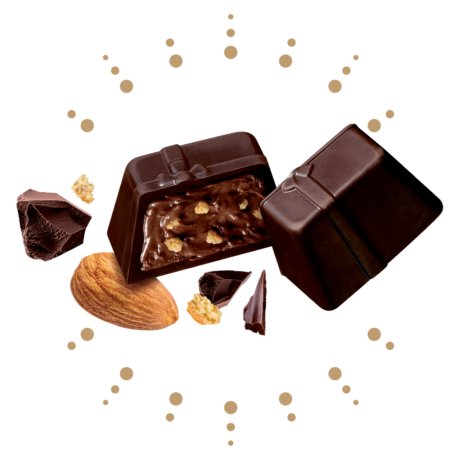 Ingredients
EXTRA DARK CHOCOLATE PRALINES (COCOA:70%min)WITH COCOA CREAM FILLING AND ALMOND BISCUITS GRANULES
INGREDIENTS: Cocoa mass – Sugar – Fat reduced cocoa powder – Cocoa butter -Vegetable oils: sunflower, coconut – Almond biscuit granules(ricestarch,cornstarch,sugar,sunfloweroil,almonds 10%,skimmed milk powder,carob seed flour,thickener:guargum- raising agents: ammonium hydrogen carbonate, sodium hydrogen carbonate, disodium diphosphate, salt, flavourings) – Lactose – Whey powder (milk) – Emulsifier: soy lecithin – flavourings. Extra dark chocolate coating: cocoa 70% min. May contain other nuts. Gluten free. Store in a cool,dryplace.
Disponibile nei formati:
Nutrition Facts
Values
Per 100g
ENERGY
2240 kJ
538 kcal
FAT
di cui acidi grassi saturi
35 g
19 g
CARBOHYDRATE
of which sugars
43 g
37 g
FIBRE
9,5 g
PROTEIN
8,1 g
SALT
0,07 g