Sapori Soft Panforte is a delicate version of the ancient classic recipe where the carefully kneaded dough creates an exclusive combination of flavours and each bite releases all the aromas of our land. Sweet almonds, candied orange peel and citron peel are combined to create a unique dough, still kneaded by hand today to retain all the authenticity of its traditional taste.
Panforte Origins
Panforte was first made based on an ancient cake from Siena known as "panmelato". The original recipe was enriched when the local "speziali", or ancient apothecaries, added fine ingredients that came from the east. As in times gone by, finely ground almonds, candied orange and citron peel are mixed to create a delicate, exclusive version of panforte, still kneaded by hand today to retain all the authenticity of its traditional taste.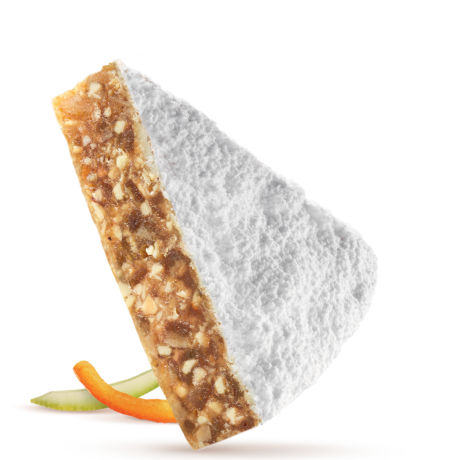 Tasting tip
Sapori Soft Panforte is exquisite on its own or combined with a dessert wine obtained from blends of Italian grapes. The aromas of this "natural wine", produced the same way it was made long ago, feature floral and spicy notes of ripe fruit, with a sweet, enveloping taste reminiscent of honey. Its strong alcoholic taste is mellowed by the acidity and sapidity added by the territory, complementing our Soft Panforte to perfection.
Sapori recommends pairing it with Federico 1° – L'Appassito, by Podere Scurtarola from the Candia Hills.
Ingredienti
BAKED SWEET PRODUCT WITH CANDIED FRUIT AND ALMONDS.
INGREDIENTS: candied orange peels and citron 42% (orange peel, citron, glucose-fructose syrup, sugar, acid: citric acid) – wheat flour – almonds 13%- sugar-hazelnut 10%-glucose-fructosesyrup-chicory soluble fibre:oligofructose-icingsugar2.5%(sugar, maize starch) – starch wafers (potato starch, water) – mixed spices 0.3%. May contain other nuts and soya. Store in a cool, dry place.
Disponibile nei formati:
Dichiarazione Nutrizionale
Valori
Per 100g
ENERGIA
1754 kJ
418 kcal
GRASSI
di cui acidi grassi saturi
14 g
1,0 g
CARBOIDRATI
di cui zuccheri
64 g
50 g
FIBRE
6,0 g
PROTEINE
5,9 g
SALE
0,08 g