Sapori Fantasie Golose are the perfect gift for those who love the art of traditional Tuscan biscuit and pastry-making. Inside, you'll find a rich selection of products to fill the holiday season with taste: from our Capricci Golosi to the mouth-watering Delizie with Figs and Walnuts, not to mention the perfect finishing touch: our unmistakeable Cantuccini with chocolate chips.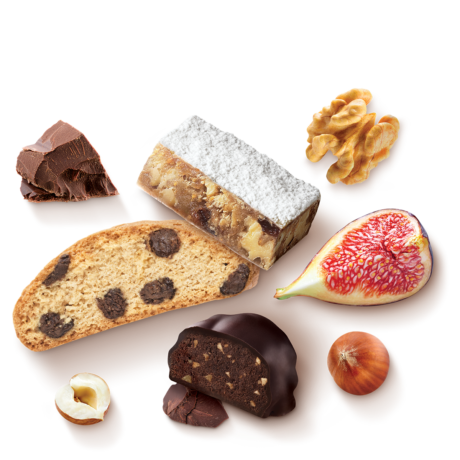 Tasting tip
Sapori Fantasie Golose are exquisite when accompanied by a good, natural, red dessert wine with strong fruity and spicy notes.
Sapori recommends pairing them with Aleatico Passito dell'Elba DOCG by Acquabona.
Ingredienti
CANTUCCINI WITH CHOCOLATE
INGREDIENTS: wheat flour – sugar – chocolate drops and chunks 22.5% (sugar, cocoa paste, cocoa butter, emulsifier: soy lecithin, natural flavourings) – fresh barn egg yolk 4.5% – fresh barn eggs 4.5% – fresh pasteurized whole milk 4.5% – butter – raising agents: disodium diphosphate, sodium bicarbonate – honey 0.4% – salt – flavourings. May contain nuts and sesame seeds.
FINE PASTRIES WITH CHOCOLATE GLAZE
INGREDIENTS: chocolate 39% (cocoa mass, sugar, fat-reduced cocoa powder, cocoa butter, emulsifier: sunflower lecithin, natural vanilla flavouring)-wheat flour-sugar-butter -honey-freshbarn eggs -cocoapowder-humectant:sorbitolsyrup-hazelnut 1.5% – vegetable fibres (bamboo, citrus, psyllium) – milk proteins – flavourings – salt. May contain soy and other nuts.
SWEET PRODUCT WITH FIGS AND WALNUTS
INGREDIENTS: sugar – wheat flour – dried figs 16% – walnuts 16% – raisins 10% – glucose-fructose syrup – icing sugar 9% (sugar, maize starch) – hazelnuts 2% – rice flour – starch wafer 0.5% (potato starch, water). May contain soy and other nuts.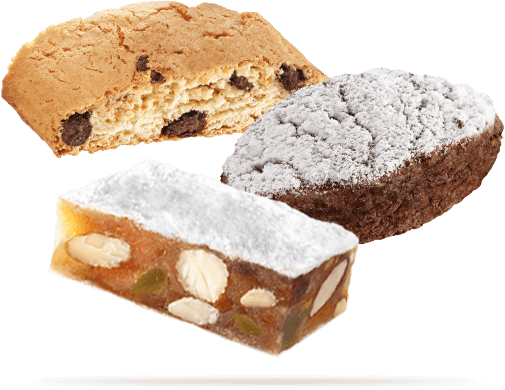 Disponibile nei formati: