Delizie with almonds and candied fruit
for those with a classic taste
Sapori Delizie with Almonds and Candied Fruit are what happens when the crunchiness of almond meets the sweetness of candied fruit, creating a little chunk of pure excellence sure to satisfy all tastes.
Your moment of pleasure
At any time of the day, treat yourself to an exquisite, delicious break ensuring a truly authentic taste. These delicious treats can be enjoyed on any occasion, gifting you a moment of pure, unadulterated pleasure.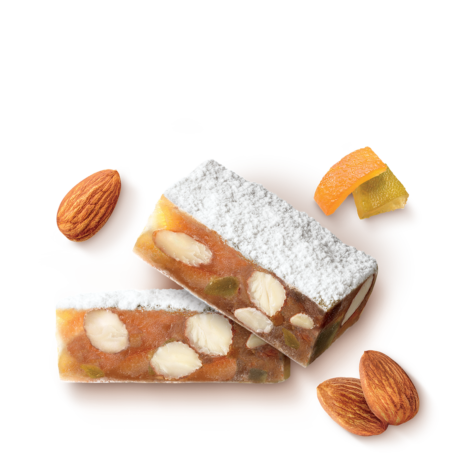 Tasting tip
Sapori Delizie Toscane with Almonds and Candied Fruit are exquisite on their own or paired with a traditional Dessert wine made from Trebbiano, Malvasia and Colombiana grapes, with harmonious hints of ripe fruit and spices that interweave perfectly with the strong flavour of the almonds.
Sapori recommends pairing them with San Germano I.G.T. Passito by Tenuta di Ghizzano.
Ingredienti
CONFECRIONARY PRODUCT WITH CANDIED FRUIT AND ALMONDS
INGREDIENTS; candied orange peels, citron and melon 35% (glucose-fructose syrup, orange peels 10%, sugar, citron 4.5%, melon 3.5%, acid: citric acid) – sugar – wheat flour – almonds 14% – icing sugar 10% (sugar, maize, starch) – glucose-fructose syrup – starch wafer 0.5% (potato starch, water) – mixed spices 0.01%. May contain soy and other nuts.
Disponibile nei formati:
Sacchetto 126g con 7 monoporzioni
Dichiarazione Nutrizionale
Valori
Per 100g
ENERGIA
1680 kJ
398 kcal
GRASSI
di cui acidi grassi saturi
8,4 g
0,7 g
CARBOIDRATI
di cui zuccheri
74 g
60 g
FIBRE
3,9 g
PROTEINE
4,7 g
SALE
0,18 g