Sapori Chocolate Based Almond Ricciarelli are what happens when you cover soft almond paste in crunchy dark chocolate 72% cocoa. A unique flavour, the result of the harmony created when slowly stone-ground almonds meet dark chocolate.
A trivia titbit
Sapori has patented its Chocolate Based Almond Ricciarelli. As part of its continuous, dynamic growth process in pursuit of excellence, the recipe has been developed and fine-tuned to achieve the perfect equilibrium between two unique tastes.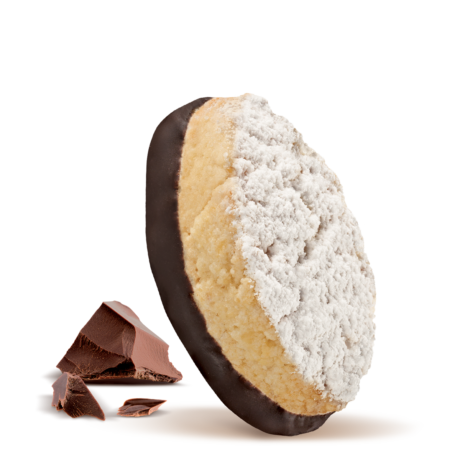 Tasting tip
Sapori Assorted Almond Ricciarelli with Dark Chocolate are exquisite on their own or paired with a dessert wine featuring raspberry, black cherry and red cherry notes. Thanks to its enveloping flavour, reminiscent of the aroma of wild berry jam, it is a match made in heaven for the combination of almond paste and dark chocolate.
Sapori recommends pairing them with Siloso' – Aleatico Passito DOCG by Azienda Agricola Arrighi – Porto Azzurro (LI).
Ingredienti
AMOND PASTRIES WITH DARK CHOCOLATE BASE
INGREDIENTS: sugar-almonds 36%-chocolate10%(cocoamass,sugar,low-fatcocoa powder, cocoa butter, emulsifier: sunflower lecithin, natural vanilla flavouring) – chicory soluble fibre: oligofructose – powdered sugar 5.5% (sugar,maizestarch)-fresh barn egg white–flavourings-preservative: sorbic acid – raising agent: ammonium bicarbonate – salt. May contain wheat, milk, soy and other nuts.
Disponibile nei formati:
Dichiarazione Nutrizionale
Valori
Per 100g
ENERGIA
1933 kJ
463 kcal
GRASSI
di cui acidi grassi saturi
24 g
4,2 g
CARBOIDRATI
di cui zuccheri
48 g
47 g
FIBRE
8,6 g
PROTEINE
9,4 g
SALE
0,11 g